A foster father from South Dakota went viral on Reddit on Thursday after he shared a note his six-year-old foster daughter wrote to him. 
"Pleze luve me," said the note, which was shared on the subreddit "r/Pics" on Wednesday evening along with the caption, "My 6-year-old foster daughter just handed me this note…" 
"SoDakZak," the user name of the post's author, said in a comment that he and his wife do love the little girl — as well as her five-year-old brother — very much, and that they're hoping to adopt them as soon as possible. 
KIDS IN FOSTER CARE SEE DREAMS COME TRUE, THANKS TO NEW JERSEY NONPROFIT ONE SIMPLE WISH
SoDakZak told Fox News Digital in an interview that he and his wife have always been open to the idea of fostering and adopting kids as a way to help children in need. 
He further explained the family's situation in his Reddit post.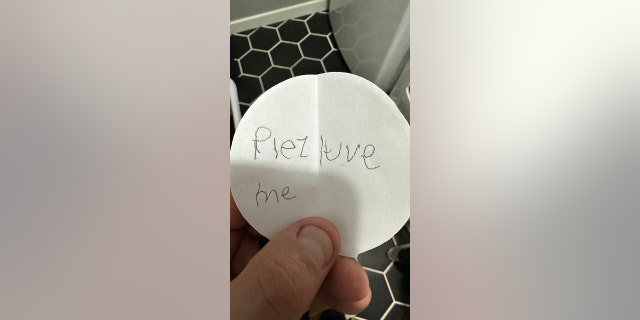 "We have had them for two months as of today," SoDakZak wrote. "They're in a foster-to-adopt situation as the parental rights have been terminated prior to them joining us."
Per state regulations, the Redditor and his wife can begin the adoption process after they have cared for the children for six months, he said in his post. 
"My heart breaks that despite every ounce of effort, she doesn't know what love truly looks like for certain," SoDakZak wrote in his post of his foster daughter.
FOSTER MOM'S VIRAL TIKTOK ON MISCONCEPTIONS BEHIND CARING FOR TEENS GETS LOVE FROM MILLIONS
"But my heart also soars knowing that she's comfortable to give my wife and [me] each a note that says this on it, comfortable [enough] with us to ask us to love her," he added.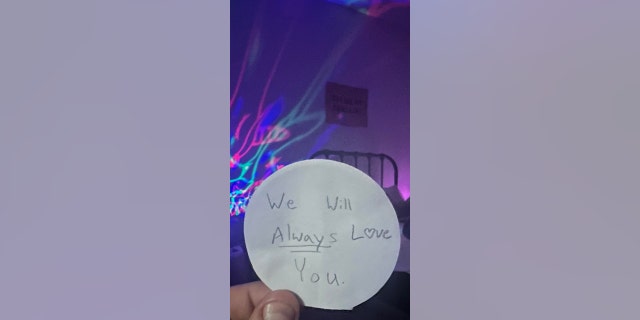 SoDakZak edited his post to say he replied to his foster daughter with a note of his own, stating, "We Will Always Love You." (He wrote the word "love" with a heart in place of the letter "o.")
He hid the note under her glasses by her bedside table, he said.
"Before she saw the note this morning, I saw her handing her brother a note at the breakfast table, and it was the same thing my wife and I received," he said in another edit.
KIDS NEED PRAYERS! THESE FAITHFUL DEVOTIONS MAY HELP BLESS OUR CHILDREN
After the little girl finished her breakfast and got ready for school, she saw her foster dad's note.
"She smiled and twirled and showed her brother and they both did a tackle hug, which was a core moment for sure," he wrote.
"Then reality set in, and we had to finish getting ready so they weren't late to school!" 
"I was totally unloved but still with my bio family. The effects of not being loved are still with me, 60+ years later."
SoDakZak and his wife met in church in late 2016. They were married in July 2019, he told Fox News Digital.
In 2022, they started the process of becoming approved as foster parents; they completed that process in the fall of 2022, he said. 
NORTH CAROLINA NONPROFIT BUILDS FREE HOMES FOR LICENSED FOSTER FAMILIES
They officially received the sibling pair in early 2023, although they first met them in December, he said.
SoDakZak explained more about the moment with the note, saying that this was the first time his foster daughter had written a note just to write one, he said.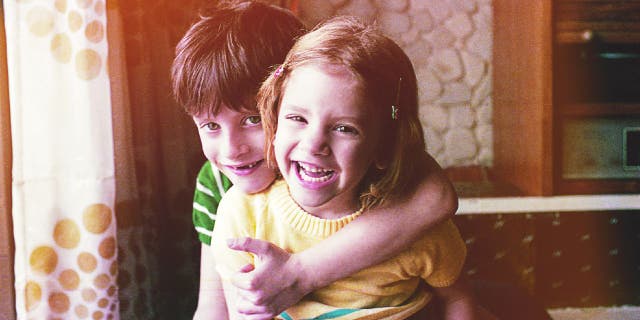 After he read her note, he "immediately … looked at her to see if she didn't feel loved by me/us," he continued.
Those fears were cast aside when he realized his foster daughter "had a smile and twinkle in her eye." 
INDIANA POLICE OFFICER AND HIS WIFE ADOPT INFANT GIRL ABANDONED IN 'BABY BOX'
"I immediately felt the highest joy and love, but also, like my heart [was] ripped in two when I realized how much of an untold story behind those three words [there is] for her, in her short life," he said.
Before the children were placed with SoDakZak and his wife, they were with a "wonderful foster family" for two years, he also said. 
"How can she be for certain that life won't be upended — and people she genuinely loves are no longer in her life yet again?" said SoDakZak.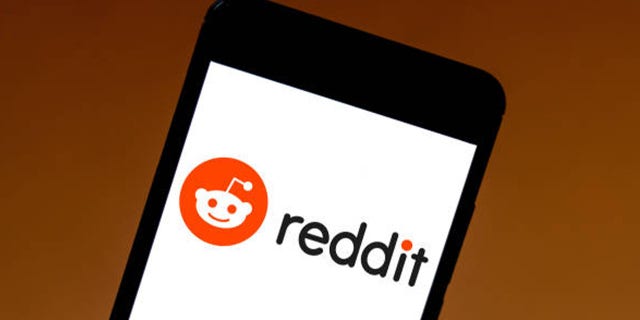 "Sure, I may be projecting deeper meaning, and I'm sure many commenters did as well … but the note, 'Please Love Me,' [expresses] such a basic human need," he said.
The desire for love "connects on so many levels," he added.
Other Redditors were similarly moved by the six-year-old's earnest note to her foster father, as well as by SoDakZak's explanation of the back story. 
"You are a good person."
Reddit user Speakdoggo wrote that he or she (gender wasn't specified) "instantly started to cry when I read her note."
The person added, "I was totally unloved but still with my bio family. The effects of not being loved are still with me, 60+ years later. I'm so very happy these kids have found you." 
WOMAN FINDS SON SHE GAVE UP FOR ADOPTION 33 YEARS AGO THANKS TO DNA TEST
Another person commented, "Man. Current child welfare (social worker) here." This individual went on, "This is a beautiful thing. I see so many foster placements fall apart for one reason or another, so seeing something like this makes my heart soar. So happy for you and your family."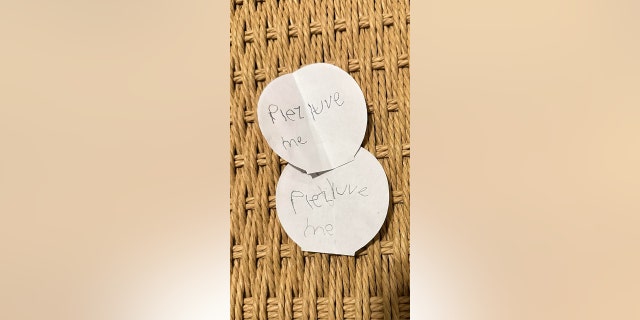 Others were more blunt in their reactions to the post.
CLICK HERE TO GET THE FOX NEWS APP
A Reddit user who goes by the name Internal_Dinner_4545 wrote, in part, "You are a good person."
CLICK HERE TO SIGN UP FOR OUR LIFESTYLE NEWSLETTER
SoDakDad also told Fox News Digital, "How could it not make me feel sad for her past, yet so incredibly excited for her future with us — and all we would love for them."