An elderly man was killed and a woman critically injured by a small pack of dogs that attacked them and first responders who came to their aid Friday afternoon in San Antonio, officials said.
Two other people were bitten — one on a hand and the other, a city fire department captain, on a leg, San Antonio Fire Chief Charles Hood said at a news conference Friday. Both are expected to recover.
By late Friday, San Antonio police had arrested one person in connection with the attack.
The identity of the man who was killed has not been publicly released. Police said he was 81 years old and the woman who was critically injured is 74. The city described her in a statement as his companion.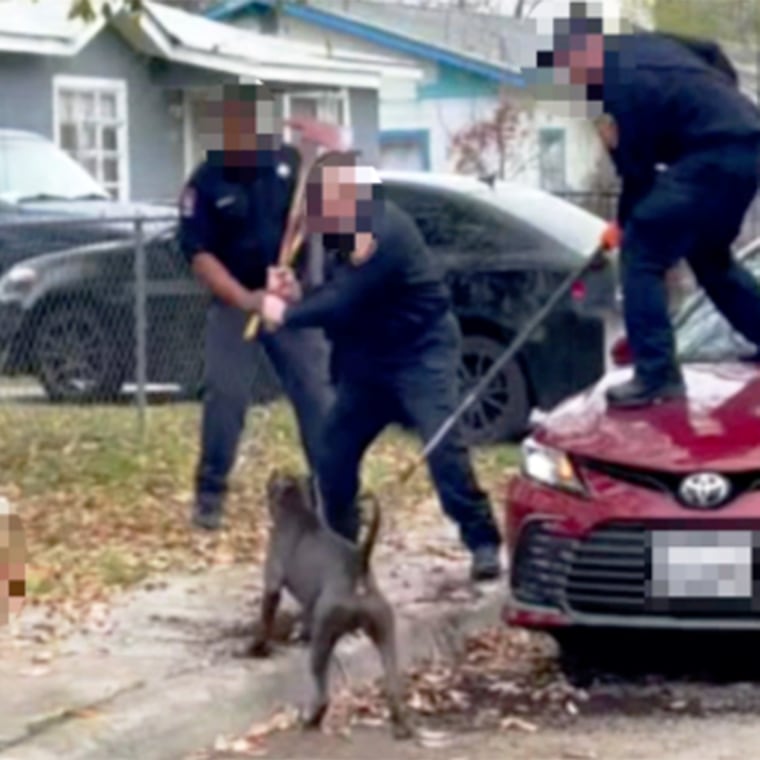 The couple were visiting relatives and had just stepped out of a vehicle shortly before 2 p.m. when at least two of the canines breached a gate on the property where they were kept and attacked, the city said.
The first city fire rescue crews on scene saw a bloodied man being dragged around a corner by dogs, Hood said. The first responders fended off the canines with pickaxes and pike poles, he said.
"This is not something normal for us," the chief said. "We don't usually show up and have to defend patients from animals."
The man was rushed to a hospital, where he was pronounced dead, Hood said. The woman was also hospitalized and was conscious and in critical condition, he said.
The suspect, Christian Alexander Moreno, 31, faces charges of possessing a dog involved in a fatal attack and injuring the elderly, both felonies, police said.
The three dogs involved in the attack or which were off property at the time will be euthanized, the city said in a statement. The dogs were described as American Staffordshire Terriers.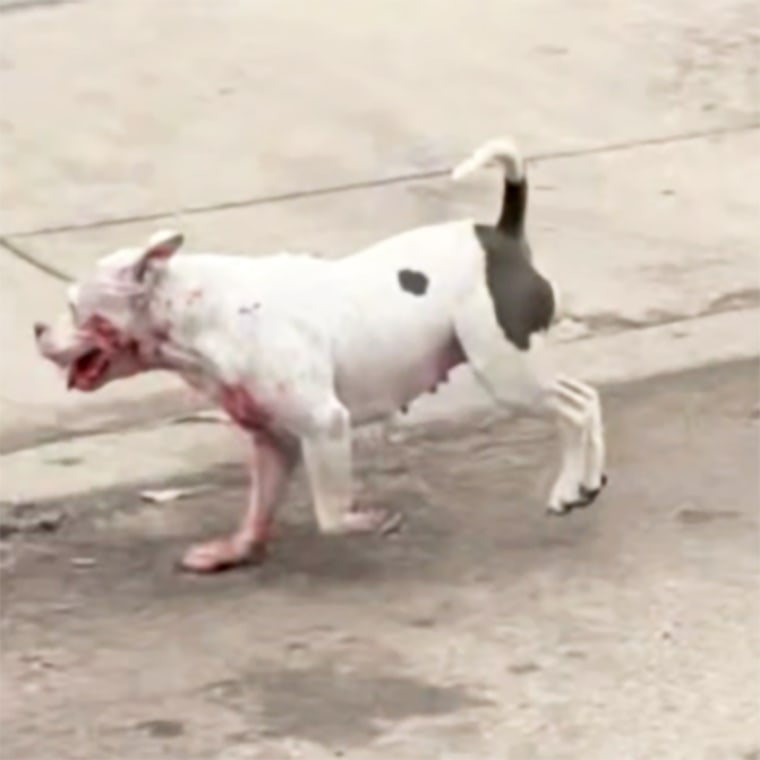 The dogs, two females and a male, were quickly put in the custody of Animal Care Services, San Antonio Animal Care Services Director Shannon Sims.
Animal Care Services workers seized all the dogs at a property believed to be home of the three terriers, Sims said. One of the three didn't appear to be involved in the mauling but was rounded up, he said.
In 2021, dogs from the same residence were impounded by Animal Care Services after "fight" in which minor biting was noted, Sims said. The dogs were quarantined but then freed because a case wasn't possible without an affidavit from a witness.
During the last two years, dogs from the same residence have been the subject of reports of unleashed canines displaying aggressive behavior, he said.
An additional "confirmed bite" case involving at least two of the dogs believed responsible for Friday's attack was reported in January, the city said.
Hood called the incident "horrific" and said firefighters took responsibility for protecting neighbors and themselves from the dogs.
"The firefighters were very heroic in this instance," he said.