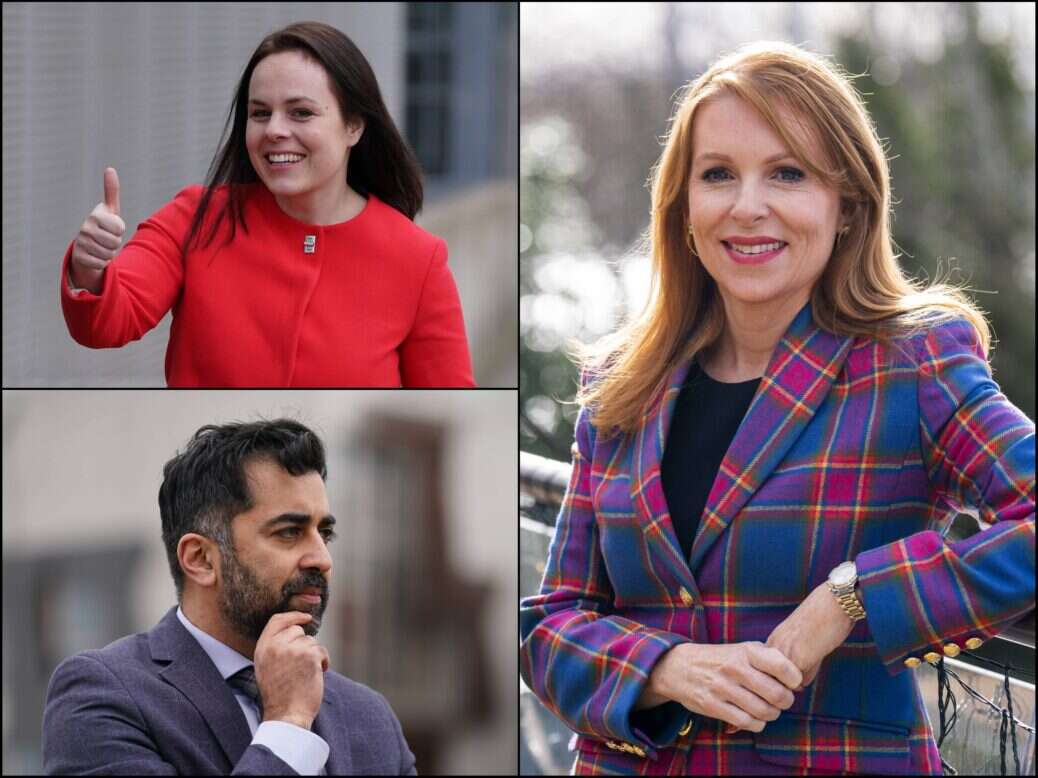 Leading the week
Candidates vying to become Scotland's next first minister are likely to kick off their campaigns in earnest this week as the SNP prepares to conduct its first contested leadership election in almost two decades following today's nominations deadline. Humza Yusuf, Kate Forbes and Ash Regan are all seeking to take the reins of the party's independence charge following the abrupt resignation of Nicola Sturgeon, and a succession of policy pledges, rally appearances and television interviews can be expected from all three candidates prior to the ballot opening on March 13.
The thorny gender issues that have dogged the final weeks of Sturgeon's leadership will return to the fore on Tuesday (February 28) when transgender prisoner Isla Bryson faces sentencing for the rape of two women in 2016 and 2019. The controversy over whether Bryson should be held in a male or female jail split opinion in the Scottish public and within the SNP itself while the party was already grappling with the passage of the Gender Recognition Reform Bill. Bookies' favourite and continuity candidate Humza Yousaf voted for the bill and is likely to continue Sturgeon's challenge to the UK government's decision to veto it, whereas initial favourite Forbes – who was on maternity leave back in December when the bill passed – has recently stated she believes 'a trans women is a biological male' and that she could not have voted for the bill in its current form.
Across the Irish Sea, the ongoing saga of the Northern Ireland Protocol may come to a head this week as the possibility of a new Northern Ireland Brexit deal being agreed between the government and the EU looms large over the region. Despite Prime Minister Rishi Sunak's evident willingness to drive through a new deal with the EU, the DUP's intransigence over the application of EU laws has so far shown no sign of waning, with leader Jeffrey Donaldson reiterating that his party cannot abide EU rules being applied to all goods entering Northern Ireland. And despite hopeful noises from the government camp and more frequent contact with Brussels, Sunak's troubles are by no means limited to the DUP, as interventions from the European Research Group (ERG) and former Prime Minister Boris Johnson threaten to reopen old fissures in the Tory party.
Looking abroad
India will host a meeting of G20 foreign ministers on Wednesday and Thursday (March 1-2) in the country's capital Delhi, with the conflict in Ukraine and its sprawling ramifications once again casting a shadow over proceedings. Indian External Affairs Minister Subrahmanyam Jaishankar, who chairs the gathering, will have the unenviable task of trying to bridge differences from participants, who notably include Secretary of State Antony Blinken and Russian Foreign Minister Sergey Lavrov. Having said that, India is arguably in a unique position to mediate as a member of the BRICS (Brazil, Russia, India, China and South Africa) alliance as well the so-called Quad (made up of the United States, Australia, Japan and India), who are reportedly set to meet on Friday (March 3). As it happens, this year's Raisina Dialogue, India's annual conference on geopolitics and geoeconomics, kicks off on Thursday and is set to feature interventions from a growing list of foreign ministers in town for the G20. Italian Prime Minister Giorgia Meloni is rumoured to be delivering the opening keynote.
Olaf Scholz will visit the White House on Friday (March 3) for a meeting with US President Joe Biden, following on from talks between the German Chancellor and Vice President Kamala Harris on the margins of the Munich Security Conference earlier this month. The Ukraine conflict is set to figure prominently in their discussions, with Washington and Berlin back on the same page following tensions over Germany's reticence to authorise the export of German-made Leopard 2 tanks to Ukraine. The pair will also likely discuss broader tensions between the US and Europe over subsidies under the Inflation Reduction Act which took effect at the start of the year.
Also look out for:
February 27
Strike action by university staff
Court hearing for man charged with murder of Olivia Platt-Korbel
New marriage minimum age law takes effect
James Cleverly addresses opening session of the UN Human Rights Council
Josep Borrell chairs Kosovo-Serbia talks
Mobile World Congress opens
The Best FIFA football awards
February 28
Preliminary hearing in Covid-19 Inquiry
Strike action by teachers in Scotland and north of England
Second strike by Amazon's UK warehouse staff
First PQs for Department for Energy Security and Net Zero
OBR publishes outlook on Welsh taxes
Annual report on women on boards in the FTSE 350
Finnish Parliament votes on joining NATO
March 1
Andrew Bailey speech to conference on cost of living
Rishi Sunak and Keir Starmer face off at PMQs
Panel hearing for Yorkshire cricket racism allegations
Teachers in Midlands and east of England strike
Elon Musk announces Tesla 'master plan' part three
FT Business of Football Summit begins
Israeli ministers address INSS conference
March 2
Manchester Arena attack inquiry volume 3 findings published
Dmytro Kuleba and Boris Johnson address Global Soft Power Summit
Teachers in London, Wales and south of England strike
Climate Change Committee report on Northern Ireland emissions
European Indoor Athletics Championships begin
March 3
Therese Coffey addresses Our Ocean conference
Amanda Pritchard at Nuffield Health Policy Summit
Plaid Cymru Spring Conference begins
Stephen Bear sentenced on voyeurism charges
March 4
Chinese People's Political Consultative conference opens
NATO Joint Warrior exercise begins
Five years ago: Novichok poisonings in Salisbury
March 5
Rail fares increase
China's NPC session plenary opens
Parliamentary elections in Estonia
FA WSL Continental Cup Final: Chelsea v Arsenal
Formula One season begins in Bahrain
Statistics, reports and surveys
February 27
ONS figures on regional house price levels in England and Wales between 1995 and 2021
CBI service sector survey
Results from: Bunzl, Occidental Petroleum Corporation
February 28
Fuel poverty report 2022
Monthly energy trends and prices
Quarterly figures on statutory homelessness
Gambling participation statistics
UK seafarer statistics
Q4 GDP for Canada, Turkey and India
Results from: Ocado, Bayer AG, abrdn, HP, Target, Travis Perkins
March 1
ONS figures on Covid-19 vaccine effectiveness
UK manufacturing PMI
CBI growth indicator
Nationwide House Price Index
BRC-Nielsen shop price index
Australia Q4 GDP
Results from: Co-operative Bank, Just Eat Takeaway, Reckitt Benckiser, Atos
March 2
Weekly report on NHS urgent and emergency care
Quarterly civil justice statistics
NHS sickness absence and workforce stats
OBR figures on passenger rail performance
Results from: ABInBev, Flutter, ITV, Taylor Wimpey, Costco, Veolia, London Stock Exchange
March 3
UK services PMI
BRC footfall monitor and economic briefing report
FAO Food Price Index
Results from: Lufthansa, IMI, Rightmove
Anniversaries and awareness days
February 27
Fairtrade Fortnight (to March 12)
Eating Disorders Awareness Week (to March 5)
International Polar Bear Day
February 28
Taiwan Peace Memorial Day
Rare Disease Day
Global Scouse Day
10 years ago: Pope Benedict XVI resigned papacy
March 1
International Women of Colour Day
Self-Injury Awareness Day
Women's History Month (to March 31)
Child Life Month (to March 31)
Scottish Tourism Month (to March 31)
Brain Tumour Awareness Month (to March 31)
Ovarian Cancer Awareness Month (to March 31)
March 2
World Book Day
Dr Seuss Day
March 3
World Hearing Day
International Sex Workers' Rights Day
March 4
World Obesity Day
World's oldest person turns 116
One year ago: Shane Warne died
March 5
70 years ago: Joseph Stalin died
The news diary is provided in association with Foresight News.

Email [email protected] to point out mistakes, provide story tips or send in a letter for publication on our "Letters Page" blog