Smoke and flames shot and poured from equipment at the future Atlanta, Georgia public safety and training facility dubbed, "Cop City," on Sunday evening.
FOX 5 Atlanta posted video on its website of a bulldozer and other pieces of equipment on fire, as well as a section of grass.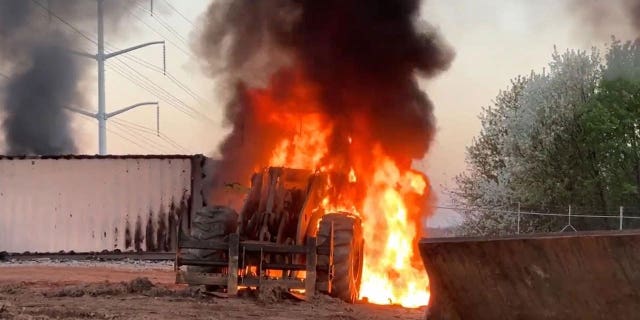 The video also showed a large presence of law enforcement officials, with Georgia State Troopers maneuvering their squad cars to keep people away from the scene.
GEORGIA AG DEFENDS DOMESTIC TERRORISM CHARGES FOR ATLANTA 'COP CITY' PROTESTORS
The facility is in the southeast section of Atlanta on Key Road, where, according to FOX 5, protestors are clashing with law enforcement officials.
The station also reported that a Georgia State Trooper said a Molotov cocktail was thrown.
City officials and the Atlanta Police Department did not immediately respond to questions about the incident.
GEORGIA STATE TROOPER SHOT BY PROTESTER AT 'COP CITY' NEAR ATLANTA
Protestors have objected to the construction of the new facility.
The City Council approved spending $90 million on the training center in 2021 with hopes it would replace substandard offerings and boost police moral that was beset by hiring and retention struggles in the wake of George Floyd protests.
Those who oppose the facility, self-described as "forest defenders," say "Cop City" will cause an environmentally damaging loss of trees. They also oppose spending so much money on a project that they claim will be used to practice "urban warfare."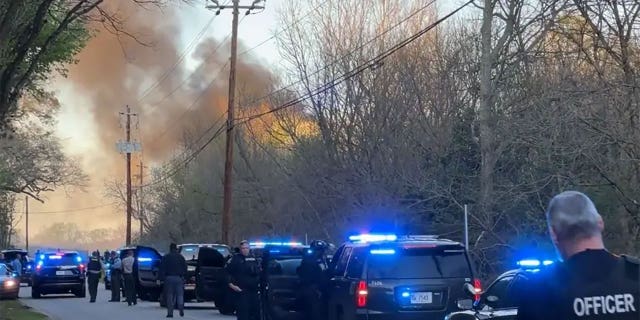 Protestors started camping out in the section of forest designated for the training facility in June 2021, FOX 5 reported.
Since December, at least 19 people have been arrested and charged with domestic terrorism in connection to protesting the training facility for Atlanta's police and fire department. The new facility is being constructed on 85 wooded acres in southwestern DeKalb County on the site of a former prison farm.
Six of the 19 arrests came out of a violent riot in downtown Atlanta on Jan. 21, which was sparked by the deadly shooting of 26-year-old environmental activist Manuel Esteban Paez Teran, by Georgia State Patrol, which responded to "Cop City" to clear protestors from the site.
Authorities said Teran, who reportedly went by the name Tortuguita and identified as nonbinary, shot a trooper in the abdomen first, before law enforcement officials returned fire and killed Teran.
CLICK HERE TO GET THE FOX NEWS APP
Days later, protestors set a police cruiser on fire, threw rocks and lit fireworks in front of a skyscraper in downtown Atlanta that houses the Atlanta Police Foundation.
Danielle Wallace of Fox News Digital contributed to this report.