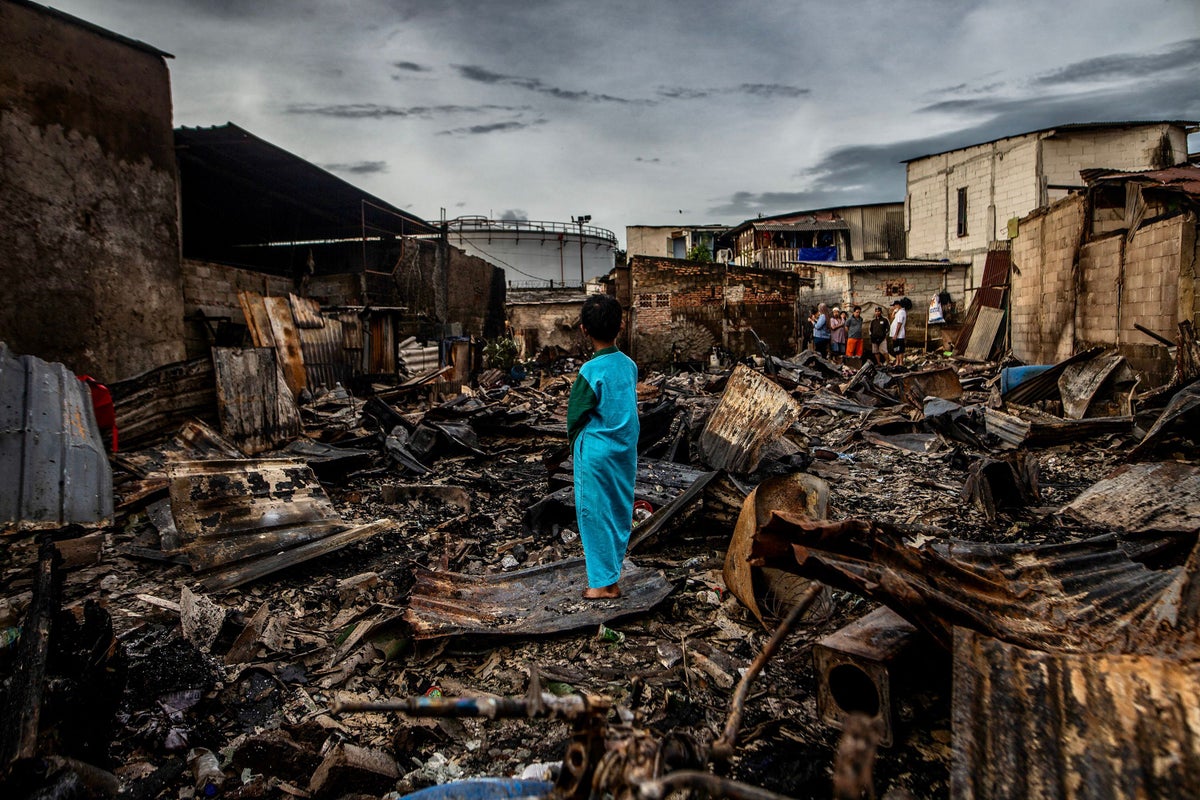 At least 16 people have died and more than a dozen are missing under the rubble of charred houses and buildings after a large fire spread from a fuel storage depot in Indonesia.
The fire started at around 8pm on Friday from a fuel pipe at Plumpang fuel storage station, operated by state-run oil and gas company Pertamina in capital Jakarta.
It quickly spread to nearby houses near a densely populated area in the Tanah Merah neighbourhood, sending residents into panic.
It took at least 260 firefighters and 52 fire engines to extinguish the blaze just before midnight on Friday after it tore through the area for more than two hours, fire officials said.
National Police chief Listyo Sigit Prabowo said more than 1,300 people were displaced and taking shelter in 10 government offices, a Red Cross command post and a sports stadium.
Footage showed hundreds of people running in panic as thick plumes of black smoke and orange flames filled the sky.
"I have ordered Pertamina to immediately investigate this case thoroughly," state-owned enterprise minister Erick Thohir said via his Instagram page. "There must be an operational review," he added.
Sugeng Suparwoto, who heads the Indonesian parliament's energy committee, has called for an audit of Pertamina's facilities.
"All facilities, whether refineries or storage, must be audited again," he said on KompasTV, noting that Pertamina often had fire incidents at its facilities.
In 2021, a major fire broke out at Pertamina's refineries in Balongan and Cilacap.
Mr Sugeng also said there should be a bigger distance between Pertamina's storage facilities and residential areas. "For a facility with Plumpang's capacity, there should be at least one to two kilometres distance with residential area."
A preliminary investigation showed the fire broke out when a pipeline ruptured during heavy rain, possibly triggered by a lightning strike, an official said.
Pertamina said it had lifted the emergency status for the facility and restarted distribution activities, adding fuel supply for Jakarta would remain secure.
Residents living near the depot said they smelled a strong odour of petrol, followed by a huge explosion.
Sri Haryati, a mother of three, said the fire began to spread about 20 minutes later, causing panic.
"I was crying and immediately grabbed our valuable documents and ran with my husband and children," Ms Haryati said, adding that she heard smaller blasts that echoed across the area as orange flames leapt from the depot.
Local residents could smell the fuel around 30 minutes before the fire, Abdul Syukur, who lives nearby, told KompasTV.
"The smell was so strong there were people throwing up and some nearly fainted," he said.
Rescuers are searching for 16 people who were reported missing or separated from their families amid the chaos. About 49 people are receiving treatment in five hospitals, some of them in critical condition.
Additional reporting by agencies